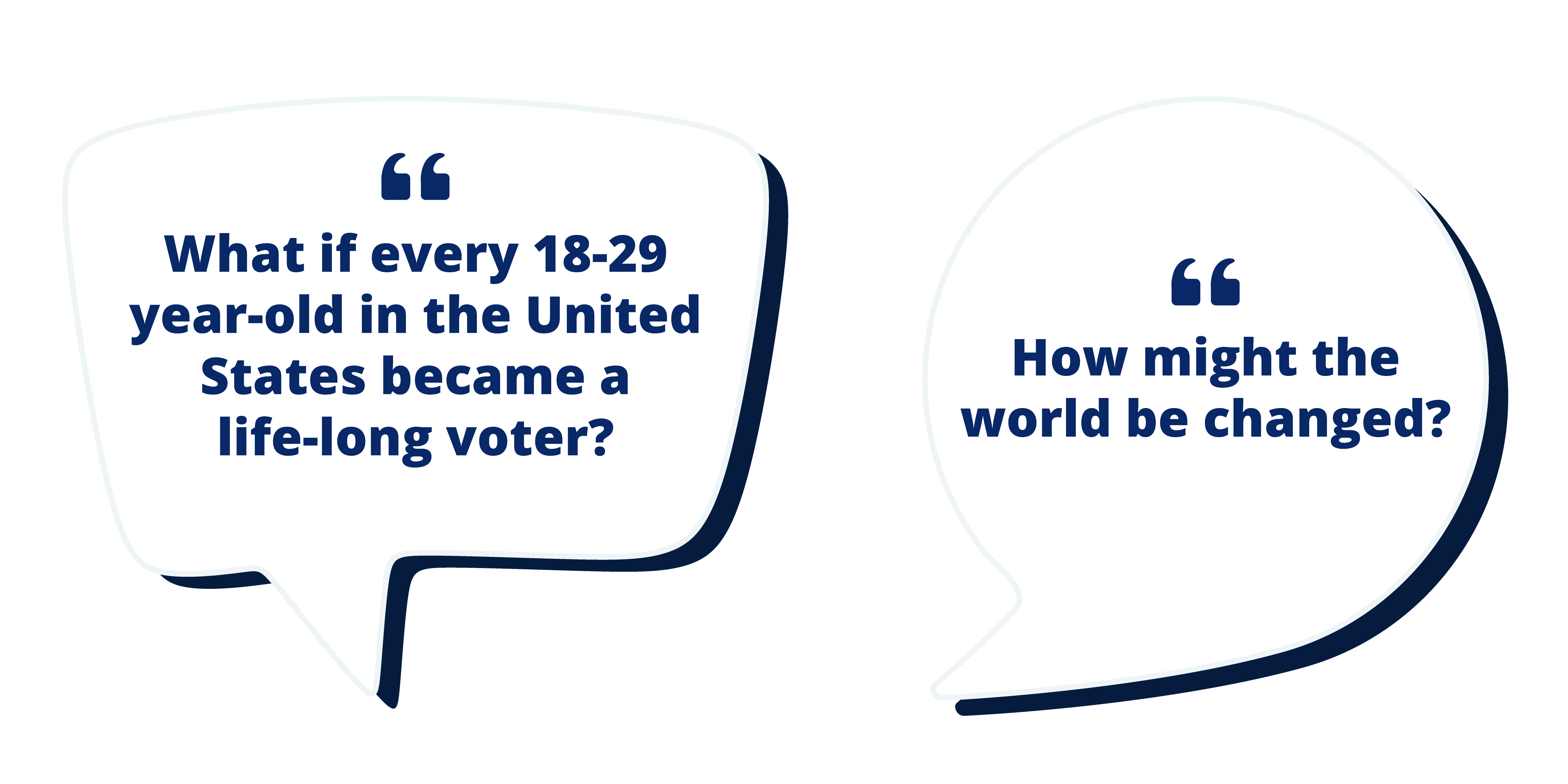 About Energizing Young Voters
Energizing Young Voters, an initiative of the League of Women Voters, envisions a democracy where every person has the desire, the right, the knowledge, and the confidence to participate.
Vision – Every 18-29 year old in the United States will become a life-long voter and engaged citizen.
Mission – Every 18-29 year old will understand:
Why it is important to vote
Develop the intention to vote
Be equipped to overcome all barriers to casting a ballot

and participating in our democracy

Understand how the political process brings about change 

Develop the confidence and skills needed to participate in the political process

Be willing to take a stand and defend democracy
Young Voters
Join a diverse group by age (18-29), gender, ethnicity/race, and education type. Set direction and policy for Energizing Young Voters and make a difference in your community!
Educators & Community Groups
Energizing Young Voters offers a suite of programs from the nonpartisan League of Women Voters and its partners designed to create a new generation of lifelong, active voters.
League of Women Voters
Our initiative envisions that every person has the desire, the right, the knowledge, and the confidence to participate.
Your Voice Matters
Want to Get Involved?
Our free, non–partisan, educational experiences and leadership opportunities help turn students into citizens and reach our two major goals: Empowering young voters and defending democracy.
"I'm so proud of your efforts and achievements with the LWV Young Voters program! You are planting seed, fostering awareness and igniting empowerment that will continue to make a difference in our democracy. I hope this small contribution helps you expand. Keep shining on!" – Merry B
Energizing Young Voters Blog
View the latest news, articles, and more.
This past year I had the opportunity to work with Patricia L. Supplee and the League of Women Voters to bring interactive lessons to my remote classes. In addition, the League of Women Voters were able to bring their program remotely to Oiada International's Project...
read more
We're Social
Follow us on Facebook, Instagram and Twitter to stay updated on upcoming teacher training, school & community organization presentations, and news. And be sure to check out our Linktree for links to all our social media!
Upcoming Events
Dec. 1-Jan. 6 – Smithsonian Exhibit at Middlesex College, Edison NJ (Voices & Votes scheduled events)
All events are EST.
Get in Touch. Get Involved.
Have a question, want to request a speaker or get involved? Please send us an email and we will get back to you as soon as possible.
​​11 Heck Ave. Apt. 2
​​Ocean Grove NJ
07756